History Hotel Meridano
Hotel Meridano, situated near the historical center of Mérida, the capital of the State of Yucatán, México. All local attractions, such as restaurants, shopping, banks, museums, theatre, Paseo de Montejo, are within short walking distance. Hotel Meridano is located 20 minutes from the International Airport and just 30 minutes from the main beaches.
The French colonial building was built in 1914, during the flourishing agricultural epoch of the henequen in Yucatán.
In the 1940's the building was converted into the Hotel Palace, servicing tourists and travelers for the next 40 years.
In the 1980's the building was converted into an office building, occupied by the Universidad Autónoma de Yucatán.
In 1996, under new management, the building was converted back into a Hotel, and once again provides its valued guests a friendly, clean and economical place to stay while spending time in Mérida, Yucatán, México.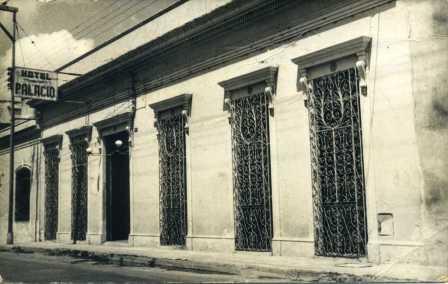 1940's Hotel Palace
Hotel Meridano, Calle 54 No. 478 por 57 y 55 Centro Histórico, Mérida, Yucatán, México
Tel. (999) 923-26-14